NESM Intensive Meditation Session on Skype with Devi Banani for Transformational Self-Love, Awakening & Stress-Relief
Two Days guided non-sectarian meditative course lasting one hour per day using scientific techniques and guided meditations in line with Upanishadic Teachings
In an era of never-ending stress and social media distraction, NESM meditation is a non-sectarian meditation technique, which is a tool that ALREADY has turned many lives around for better!!! This technique includes Transformational Self-Love (TSL) and based on scientifically validated research and ancient Upanishadic wisdom.  If you lack a sense of self-love and fulfilment, this short course will awake you to the infinite love and fulfilment existing within you.
---
Love Yourself Unconditionally. Connect with the Great elements of this Universe and the Cosmic Intelligence. Connect with your Body, Mind and Soul.

 

Live Happy, Healthy, Stress-free.
Stress is a silent killer, we all know. However, it has been an indispensable part of modern life. It could be your job, a relationship, or simply the speed of a hectic life that makes life stressful and affect your health and well-being. Especially, in the context of the current challenging periods, it is a time to refocus and embrace the bigger picture, so we can heal ourselves and awaken the self-love within.
The lack of self-love makes one's life more stressful, and even decreases the immunity. All diseases of the body and mind spring from an absence of self-love. Awakening to Self-Love is a journey. But the greatest journeys all start with a single step and this online meditation course could be it.
Who can Join the NESM Meditation Online Course?
The NESM online meditation course is for anyone who has a desire to learn and apply meditation techniques that might change their life. The course is suitable for anyone who wants to become stress-free, discover self-love and find their life's purpose.
| | |
| --- | --- |
| Language: |      English |
| Content |      Course study materials and live one on one instruction    |
| Tuition Fee |       $49.99 |
| Mode |       One on One Online Skype Course |
After you register and submit your payment for an online meditation session, you are notified by email and offered a a set of choices for the dates and times for the online session. You choose one, and confirm by email. You can always email us, if you have a special preference. Then the session follows.
Receive the energy of the Master on a one on one session and learn through an interactive experience From a Self-realized Master-guide, who has several years experience of guiding numerous students to peace, happiness and transcendence.
Learn the fundamentals and deeper aspects of meditation and be guided through the practice to a state of focus. calm and wellbeing.
With NESM scientific meditation technique, you could learn to:
Love yourself unconditionally in a non-judgmental way
Connect with your body and mind and dissolve Stress away
Connect with the great elements of the Universe
Improve neuro plasticity to rewire your brain and thought patterns
Boost self-confidence and self-esteem
Use epi-genetics principle to change the gene behavior
Enhance physical mental and emotional well being
Use your body to ground yourself
Learn to manifest faster by getting into the flow
Find equanimity and balance even in negative circumstances
Be able to wake up every day with positivity
Now is time to take your power back!
"Very welcoming and helpful, a safe space to talk openly without judgement. I learnt to see things differently. – I would recommend this session to anyone and everyone who wants to learn better ways to connect with life and themselves. it surely was a life-transforming experience. Thank you, Devi Banani!" –  Edwards Simpson, Birmingham, UK
About Devi Banani Ray, Your Meditation Guide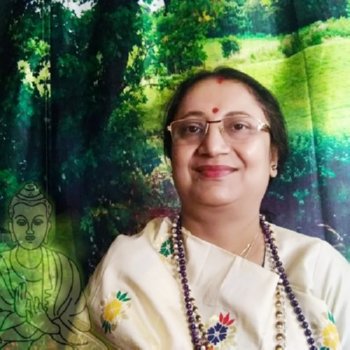 Devi Banani is a leading meditation expert and an enlightened teacher from the Himalayan tradition of Wisdom and Self realization. She is a renowned international author of several books on meditation and infinite human potential, including Awakening Inner Guru, Glory of Om and Meditation: Walking the Path of Peace. The guide and mentor of many around the world, her passion is to teach meditation as a simple daily practice, as an art and science of living, so that anyone from any background can benefit from it. Having an experience of guiding students in meditation for more than 15 years, her style of teaching is compassionate, gentle and holistic, which focuses on the specific need of the student.
"As a meditation teacher I am always very happy to guide my students to a state of centered joy, peace, balance, and freedom from stress of daily life. Nothing makes me happier than teaching people how to meditate." — Devi Banani Ray.