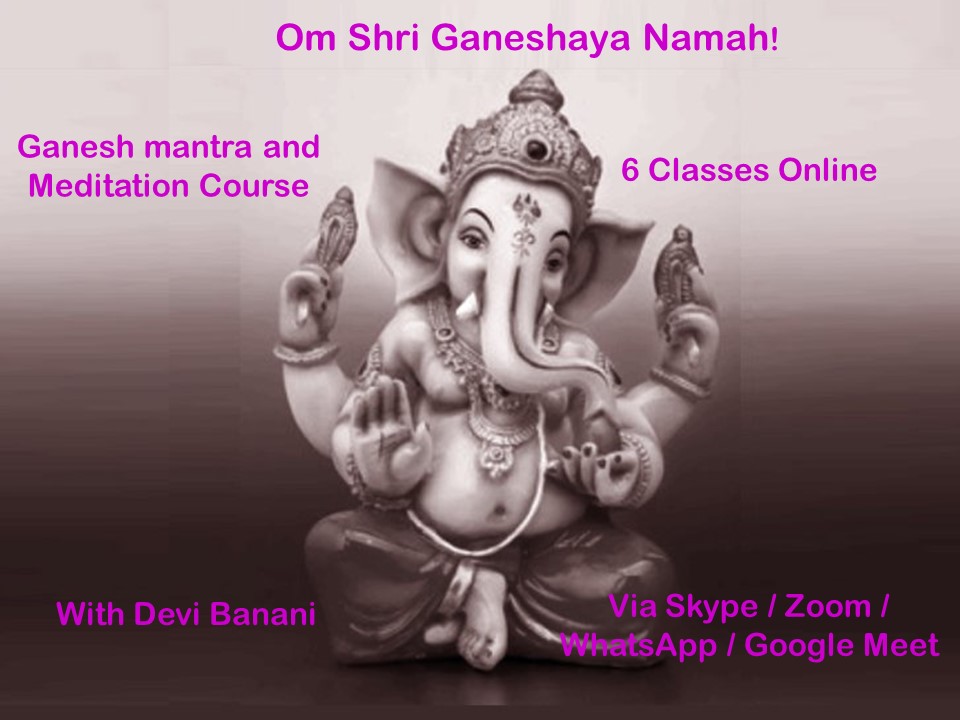 Lord Ganesh can help us to ground our spiritual power and manifest our dreams in a humble, peaceful and heart-centered way. Ganesh Mantra chanting and meditation opens up the gates to things and conditions that we desire in our life, and removes all obstacles on the path of achievement of the desired objectives.
Join Mahadevi Banani for a 6-class series exploring this magnificent aspect of the Divine power as Lord Ganesha. This is a 6 weeks course, consisting of melodious mantra chanting and guided meditations, each session lasting for about one hour.
You will learn the subtleties of Ganesha, the powerful remover of the obstacles that holds one back in life. Learn step-by-step, invoking Ganesha in a compassionate child form, closely related to Durga.
Through chant and guided meditations, you will immerse yourself in these sacred words and receive abundant blessings of the Great Ganesh!
Course Contents
Module 1: Introduction to Ganesha, the spiritual science of mantras Maha Ganapati mantra and Ekakshara Ganapati mantra chanting and meditation.
Module 2: Mantra Power and Shakti Vinayaka mantra chanting and meditation
Module 3: Ganesha as son of Shiva, Vighnesha Gananayaka Mantra chanting and Meditation
Module 4: Ganesha as the little son of Durga, the great mother goddess, a very special Haridra Ganapati mantra and meditation.
Module 5: Om, the pranava and ganesha, A special Heramba Ganapati Mantra and meditation
Module 6: Ucchhishta Ganapati mantra and meditation