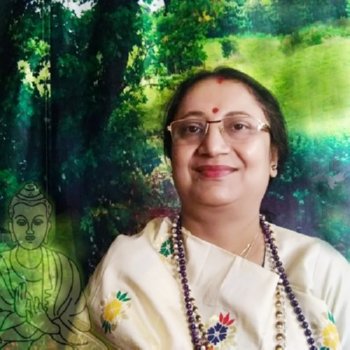 Devi Banani Ray is a leading meditation expert and an enlightened teacher from the Himalayan tradition of Wisdom and Self realization. She is a renowned international author of several books on meditation and infinite human potential, including Awakening Inner Guru, Glory of Om and Meditation: Walking the Path of Peace. The guide and mentor of many around the world, her passion is to teach meditation as a simple daily practice, as an art and science of living, so that anyone from any background can benefit from it. Having an experience of guiding students in meditation for more than 15 years, her style of teaching is compassionate, gentle and holistic, which focuses on the specific need of the student. She teaches how you can reprogram your consciousness and ascend to the higher realm of transcendental happiness.
Her wisdom and realizations of deeper truths of life is reflected in her teachings. She conducts meditation courses and retreats for self-realization and stress-free living. With her deep insight about life, profound spiritual wisdom and deep compassion, she gently guides her students on their chosen path. She is also available online through Skype or Zoom for personal guidance on meditation.
"As a meditation teacher I am always very happy to guide my students to a state of centered joy, peace, balance, and freedom from stress of daily life. Nothing makes me happier than teaching people how to meditate." — Devi Banani Ray.